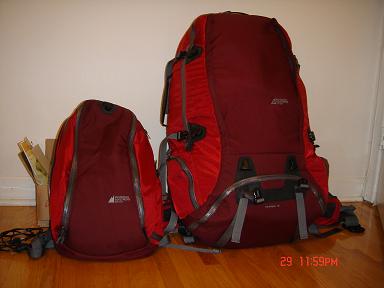 I bought a backpack at Mountain Equipment Co-op on Saturday - at last!! Yay! It looks really cool !! The backpack is red and it's a bit big (60L) for me! I had wanted to buy a blue one, but I couldn't find one that really suited me. The blue one they had was even bigger than the red, so I really had no other choice. However, I like red one too and my friends who went with me also really like it! Moreover, it has some quite nice functions, even though it doesn't have wheels :P
So, why do you think that I hadn't wanted to buy the red one? As you know, I look young because of my baby face...so I thought that if I have a red backpack or wear red stuff, I would look even younger... Can you imagine me with a red backpack? :D I guess I'll look really funny, eh? Some of you guys who know my lovely car could imagine me... :)
Right now I'm thinking about...
-if I should go straight to Edmonton or not.
-while I'm there, I'll meet a friend of mine from Edmonton (who works in Toronto now) who will be goning home for 10days. So then I have to decide how long I will stay and visit around Edmonton.
-I want to go and see; Winnipaeg, Nelson, Victolia, North Vancouver, the Yukon territory and so on...
-I want to join the Albuquerque International Balloon Fiesta, so I have to get in contact with the team which I participated with last year.
I'm sort of busy, so, still I can't make an itinerary...even though I really want to take some time to do it! I know that everything depends on what I want to do, the time schedule for transportation and the arrangement of accomodations...
I could make some reservations just before heading out West...and then just leave...
If you have any advice or suggestion, don't hesitate to leave any messages. Thanks!
...Thanks Andrew!